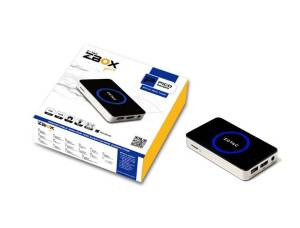 So a few months back I was really excited to see some Desktop PC's come out using the BayTrail. In paticular I saw the Zotac Pico and the Minix z64 as pretty good starts to using ultra low power x86 SOC's desktop computers. When the Pico became available I jumped on the chance to get one. What I learned is this thing is full of flaws.
Runs extremely hot. Especially on the silver side band
Supposed to have a SDP of 2.2w but under no circumstance does it get below 3.8w
Running XBMC it uses 8watts of power??? That's 3 watts more than the LIVA.
Even after turning off the Zotac case lighting, you still are in the high 6 watts.
Ethernet adapter is really a USB to ethernet adapter (HUH????)
Ethernet adapter does not work with linux, at least i couldnt find any drivers for the ethernet adapter
No USB 3.0, not a biggie but when your loading the OS, it makes things a lot quicker.
To my dismay, I sent this back for a refund. The Minix z64 is still in limbo and while the LIVA is only a dual-core cpu, it still handles all my MythTV requirements with little problem. I can play a H.264 DTS-MA video at 10mbit rate without any hiccups.  Hopefully when the Braswell platform comes out they will be able to address all the flaws and add in simple things like an ethernet port and stop trying to gimmick the public with "Scenario Design Power".